The Moresnet Viaduct (BE), shot with the R6
Image quality
Compared the EOS R, the R6 feels like the first uncompromised hybrid 4K Canon camera. Gone is the 1.7x crop that made it challenging to shoot wide, and thanks to the 5.1K oversampling, we finally get a noticably more detailed 4K image than the 1-to-1 crop on previous cameras. With 10bit 4:2:2 internal C-log recording, you get a solid and very mallable image, without the need for an external recorder. The R6's 'modest' megapixel count of just 20MP even gives the R6 a slight edge over the R5 when it comes to low-light performance: because the pixels are larger, each pixel gathers more light, which in turn leads to a cleaner low-light image.
Handling
What struck me even more than just the image quality, is the fact that everything you need is built right in. No need for an external monitor: focus peaking, zebras, histogram and audio meters now come as standard, and 10bit internal recording mitigates the need for an external recorder. 5 Axis IBIS means you can leave your rig at home, reliable touch AF does away with the need for a follow focus, and the optional RF to EF variable ND adapter completes this tiny capable cinema package. A lot of those little features come together to make shooting fast and convenient, and very well suited to run-and-gun. Not to mention the fact that you're always carrying a pretty capable full-frame photo-camera with you.
H.265 codec
A lot has been said about the H.265 codec: while it does help keep filesizes down (you get nearly double the record times compared to H.264), the files really need transcoding to a more edit-friendly format first. Although transcoding in EditReady is fast on anything but the old Macbook Air I happend to have with me on a trip, it can be an annoying extra step when you arrive home from a shoot and just want to get editing. The story is radically different on Apple's new M1 Macs though, which have native hardware decoding for H.265/HEVC. Even my baseline M1 Macbook Air has no issues playing back or editing the native H.265 files.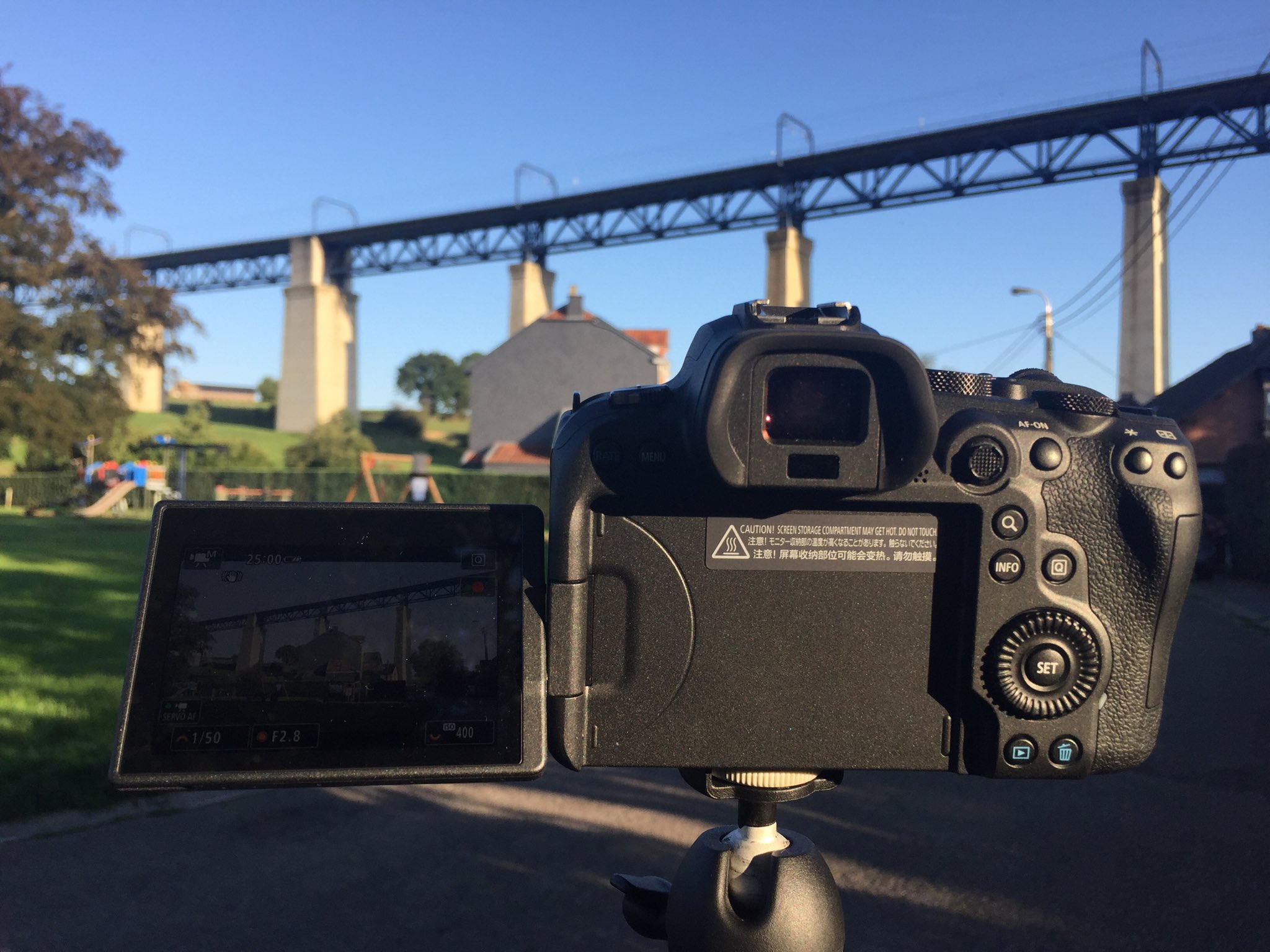 Small R6 set-up at the Moresnet Viaduct
IBIS
One of the most exciting features to me is that we finally have In-Body Image Stabilisation (IBIS) in a Canon camera, and this makes a huge difference: I'm finally able to shoot handheld with my favorite non-stabilized EF 85mm, even in the APS-C crop mode (135mm equivalent). Of course stabilization improves even further when using a stabilized lens, and when used in conjunction with an RF-lens, both IBIS and lens stabilization work together to create an almost 'floating' feel. As with any IBIS system, it works best when you hold your camera relatively still, so don't expect to get super-smooth walk-around vlogging shots without a gimbal or other means of stabilization.
4K/60
For a long time, shooting slow-motion on a Canon hybrid camera meant switching to HD, or even good old 720P, so it's great to finally see 4K/60. What's more, there's no drop in image quality: you get that same detailed 5.1K oversampled image as in the lower-framerate modes. In conjunction with IBIS, slow-motion can really smoothen-out your shots. Although the R5 offers 4K/120P, slowing down normal movement by 4 times or more can easily become too slow. If you're not into extreme sports or fast action I think 60P is the sweet spot.
APSC-Crop Mode
I love shooting with primes, but switching lenses all the time can easily become tedious. That's why I'm a big fan of the 1.6x crop mode on the R6: often I just bring one full-frame lens, and then switch to crop mode for close-up shots. My 35mm becomes a 56mm lens, and my 85mm lens becomes a 135mm. In fact, I use this so often I wish you could assign this function to a custom button. The crop mode is also fully compatible with Dual Pixel AF, IBIS and 4K/60. The only downside is that on the R6 you do lose some detail compared to the oversampled 4K mode.
Overheating
All of the above would make the R6 a no-brainer, if it wasn't for that one big flaw: the overheating issue. Thanks to a number of firmware updates, the overheating isn't as prominent of an issue anymore, but if you plan on using the R6 as your A-cam it could still be a deal-breaker. I'll weigh in with my personal experiences and tests.
When I first got the camera I mainly used it outside: grabbing a few shots on one location, shutting down the camera and moving to the next location. On these shoots I never experienced any overheating, not even a warning. But when running deliberate overheating tests indoor at room temperature, I did get an overheating warning after about an hour of recording. When recording at 60fps, the overheating warning came on after just over half an hour. Repeating those same tests outdoors, I never got the camera to overheat: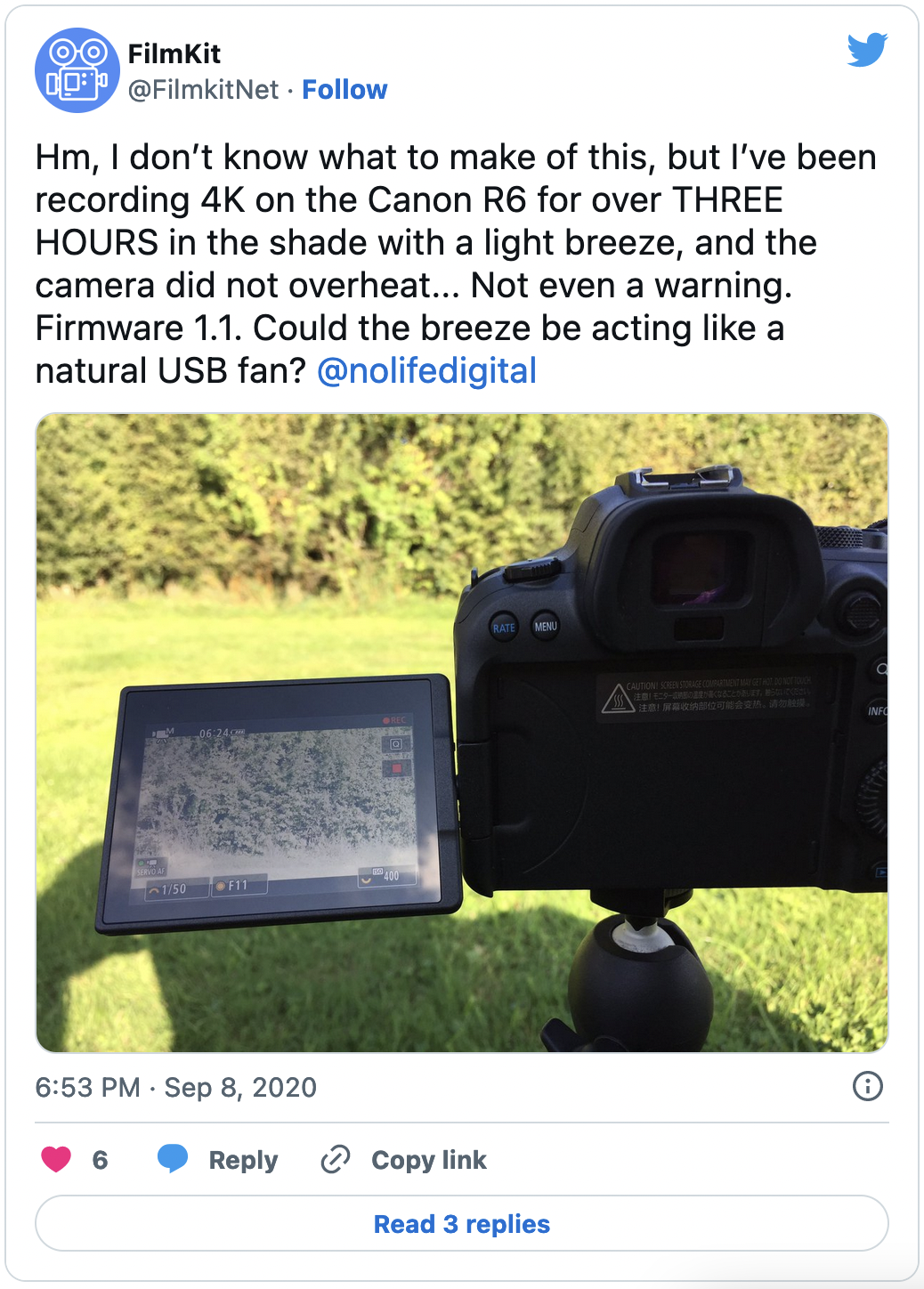 My take-away from these tests is that the temperature of the surroundings has a huge impact on your record times. So will the overheating affect your shooting? I guess it really depends on what kind of shoots you do. If you do long-form recordings of events or long indoor interviews, the R6 probably isn't the best option, but if you do run-and-gun recording, outdoor events or lots of short takes, the overheating likely won't affect you at all.
Update: firmware 1.3.1 allows you to record at a lower bitrate IPB Light, and from my testing this improves record times indoors by another 20/25%.
Conclusion
The R-system has quickly matured. Where the original EOS R in some ways seemed a little unfinished, the R6 and R5 are the first Canon hybrid cameras where video doesn't feel like an afterthought. The gorgeous full-frame oversampled 10bit 4K, the 5-axis IBIS system, 4K/60 and Dual Pixel AF all make the R6 a versatile and smooth video shooter. If the overheating doesn't interfere with your shoots, that is.