Nikon, Canon and Panasonic, BlackMagic and Fuji weren't merely playing catch-up either: all of a sudden 10bit 422, LOG and 4K60 seem to have become the new baseline for a mirrorless camera. How things have changed in just a few weeks.
While most manufacturers in the consumer-space compete mainly on the latest specs, Canon has traditionally been more focussed on stability, color and ease of use. You won't see a Canon camera overheat in the hands of customers (like Sony) or release a faulty software update (like Fuji), but you won't see the latest tech on board of Canon cameras either. In an interview with Cinema5D a Canon rep actually admits that they weren't able to do full sensor readout in 4K from the 5D mark IV's sensor because of overheating, and that's why they decided to stick with cropped 4K.
So alas, the Canon EOS R still has the 1.7x crop in 4K, but compared to the 5D Mark IV's 4K mode, it has a distinct and very important advantage: on the EOS R you can actually USE lenses that were designed for crop sensors. All of Canons EF-S lenses that were designed to mitigate the 1.6x crop on APS-C sensors, can now be used on the EOS-R using the RF to EF adapter, with only a 0.1 extra crop compared to APS-C. Having used the 5D Mark IV extensively for documentary shoots and having a hard time to get wide shots, this is a major advantage of the EOS-R. It's great to be able to use my trusty EF-S 17-55 F2.8 IS again, or the 10-18 ultrawide.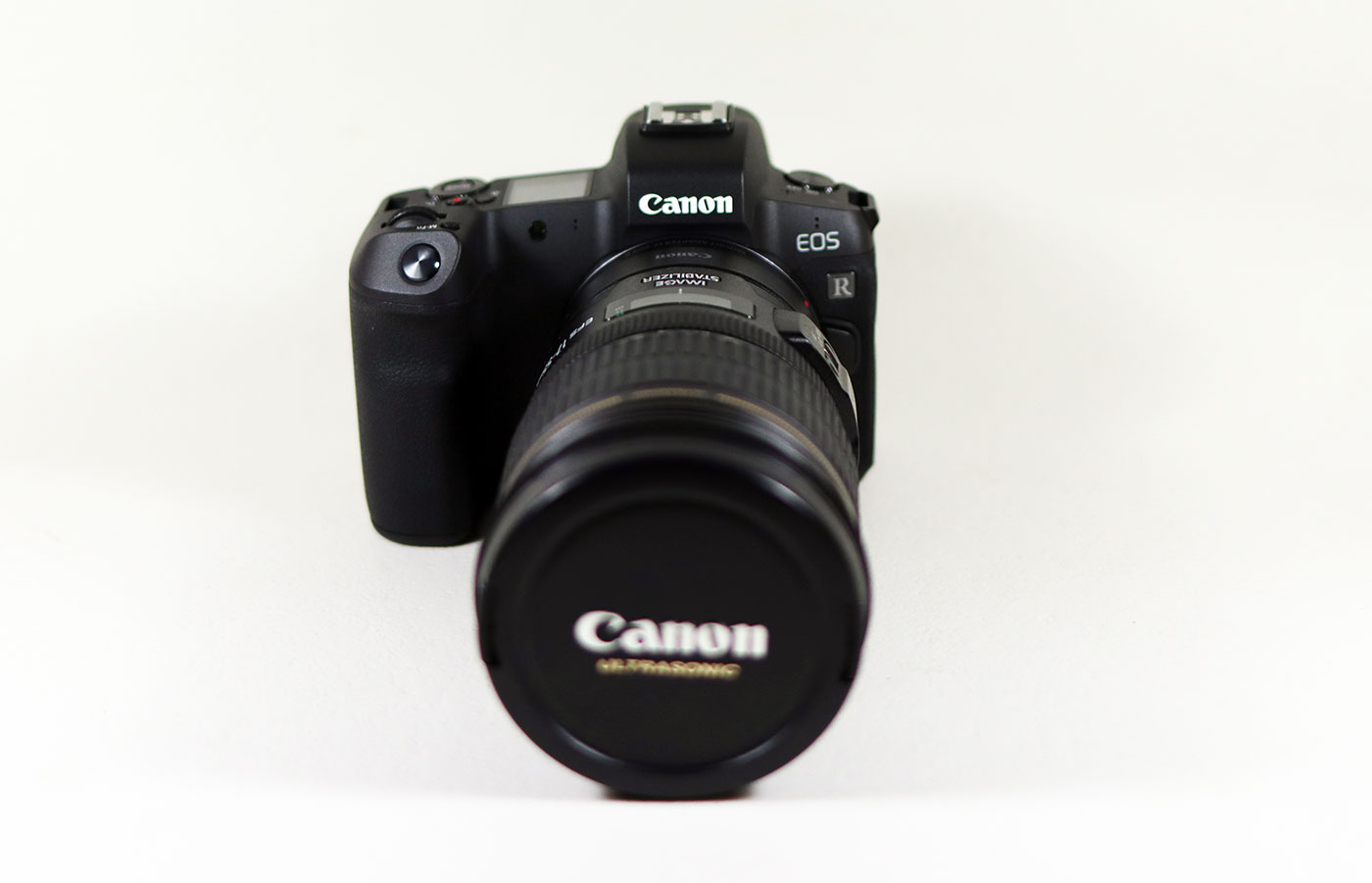 My trusty EF-S 17-55 on the Canon EOS-R
Another neat thing, which hasn't been discussed much, is that you can also use APS-C lenses on the EOS R in photo mode. To do so, go to the menu and set "Cropping/aspect ratio" to 1.6x. This is the first Canon full frame camera that also accepts APS-C lenses in both video and stills. It does make you wonder where Canon's APS-C line of mirrorless cameras (EOS-M) is headed, as there is no way to mount EF-M lenses on the EOS-R.
If you're currently on the fence if you should trade your 5D Mark IV for the EOS-R, I've made a list of pros and cons, based on my initial experiences with the EOS R.
Pros of the EOS R vs the 5D Mark IV:
10bit 422 external
Canon LOG
Easier to use codec and choice of data-rate
(very big) EVF
Flip-out screen
Compatible with EF-S lenses. It can now actually be used as an APS-C camera
Focus peaking
UHS-II card slot
Option for variable ND adapter ring
4K timelapse
4K HDMI out
first Canon full-frame camera that accepts both EF-S and EF lenses
you can also make photos with crop lenses
better ISO performance
touch-drag AF
Digic 8 processor
Cons of the EOS R vs the 5D Mark IV:
8bit 420 internal (vs 8bit 422 internal on the EOS R)
less robust body
less physical buttons
Conclusion
Having used the 5D Mark IV for video extensively for the last 2 years, I've learned to work around its quirks (and maybe even love it for them). But in the short time I've had the EOS-R now, I almost forgot about how difficult some things were on the 5D Mark IV (getting a wide angle shot, looking at the screen from a high or low angle, having to convert everything to ProRes before editing, not having an EVF). For video, I see no reason to get the 5D Mark IV at this point. Not because the 5D Mark IV doesn't produce beautiful images, but because the EOS-R makes it so much easier to do so.