The Swit CM-55C (known as the OSee T5 in other parts of the world) has the size of an iPhone and the thickness of a paperback, making it an ideal candidate for pairing with small mirrorless cameras. With a weight of just 160 grams (without a battery) and the option to power your camera from the monitor, the CM-55C allows you to shoot with a minimal amount of rigging. Where other monitors often come with a big bolt-on battery plate, the battery plate on the Swit is neatly integrated into the chassis, and even the HDMI-port is recessed on the side of the monitor.
Powering options
Powering options are another strong point of this monitor: the integrated battery plate accepts both Sony NPF-style batteries as well as Canon LP-E6 batteries. The power draw is so low that you can even run the monitor from a USB powerbank! That's a lot of powering-options to have in such a small monitor.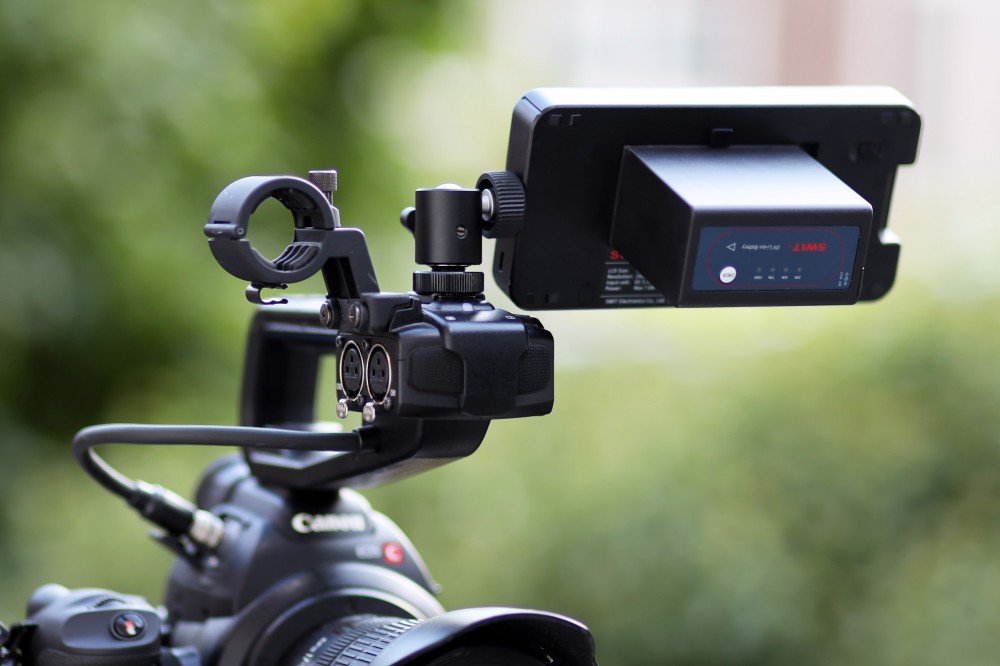 Swit monitor with Swit battery
Interface and features
Although the design and the interface of the Swit CM 55C is clearly 'inspired' by the smallHD 501 monitor, the Swit is nearly half the weight (160 grams vs 300 grams), has a bigger and slightly brighter screen (450 nits vs 400 nits), has much more powering options, and costs 5 times less than the SmallHD.
Besides the usual suspects (peaking, zebras, histogram) the Swit CM 55C also features 3D LUT support, waveforms (3 sizes), false color and even a vectorscope! If your camera sends audio over HDMI, the Swit can also display audio meters and outputs the audio through the monitor's headphone jack.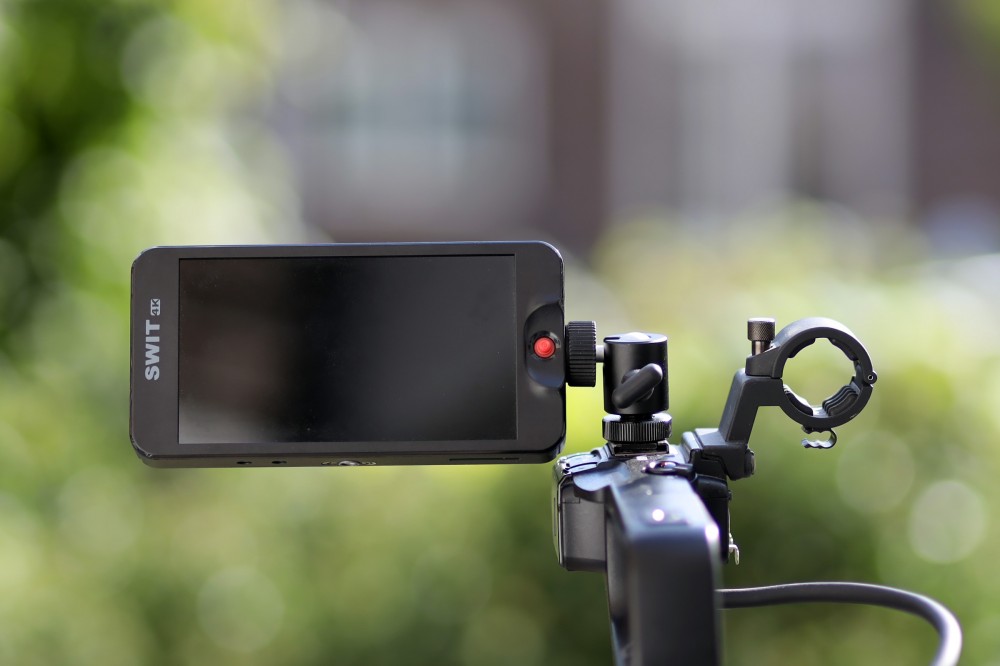 The original Canon C100 could certainly use a better monitor
Where most other brands use the finicky 4-button menu navigation system (back, up-down, select), the Swit uses a single joystick to navigate the menus. With a traditional 4-button menu you have to constantly look if you're pressing the right button, while with Swits joystick you can just keep your eyes on the screen.
What isn't really intuitive is that Swit also added a 'press-and-hold' function: it took me quite a while to figure out the general display settings could be accessed by a long-press left. A long press right allows you to add a new 'scene', a whole new set of assist-tools.
Screen
Coming from years of working with 720P monitors, the 1920x1080 resolution on this monitor is a treat. I found it much easier to pull focus, even without focus peaking engaged. Colors are vivid and accurate out of the box. The screen is 5.5 inches and has a viewing angle of 178 degrees (which means you can see it from any angle). The brightness of 450 nits is standard for monitors of this size, but won't be bright enough for filming outside in direct sunlight (at least not without the provided sun hood).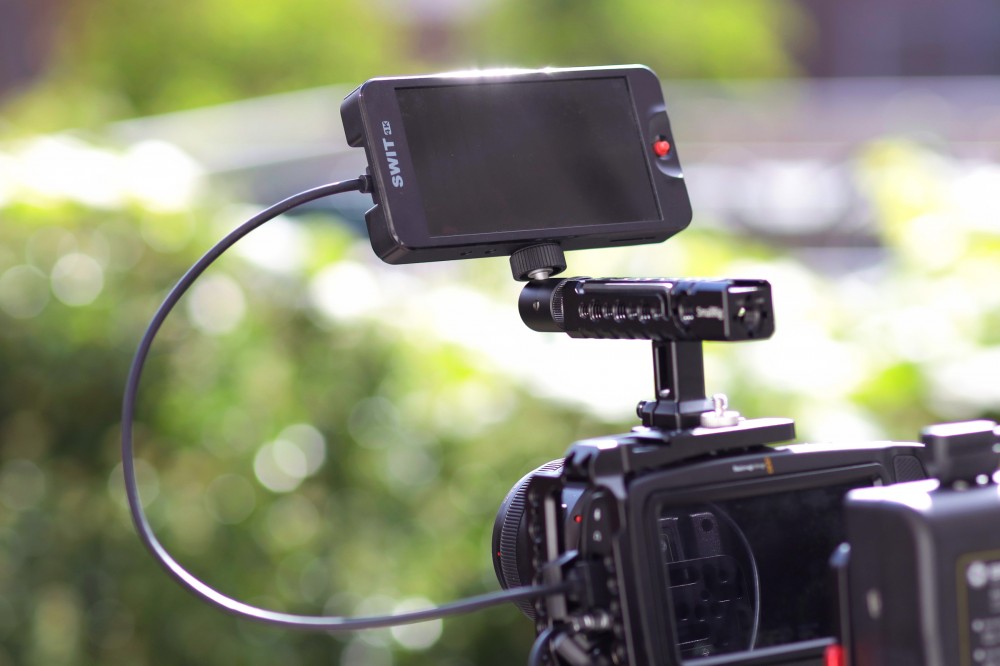 The monitor was actually turned on...
Catch
If there is a catch to the price and feature-set of this monitor, it must be the build quality. The all-plastic encasing creaks even when you gently press it, and doesn't feel like it would survive even a slight drop. Although nice to have, the included mounting bracket and sunhood are of poor quality. For normal use this is a perfect trade-off, but I don't expect the monitor to survive years of rigorous set-life.
Conclusion
Because of its lightweight and compact design, the Swit CM-55C is better suited as an on-camera HDMI monitor than many of its pricier rivals. Add to that the extensive feature set, high resolution screen, nice interface, great number of powering options and extremely low price, and this monitor becomes a no-brainer to have in your kit bag. Only if you need more a more durable design, higher brightness or a bigger screen, this monitor is not for you.