Switch to manual video mode
One of the most important aspects of making your footage look cinematic and unlock all sorts of creative potential, is to manually control the shutter speed, aperture and ISO. To get full control over your camera's settings, first switch to manual video mode. To do so:
First, make sure you switch the mode dial on the top to video mode
Press the 'menu' button and select 'shooting mode' on the first page
Select 'movie manual exposure'
Set your resolution and frame rate
Next, you want to choose your resolution and frame rate.
Press the menu button, and go to 'Movie rec. size'
For normal speed recording at the highest quality, choose 4K 23.98P or 4K 25P
The R10 also has the option of shooting 4K at 50/60 frames per second in both line-skipped 4K (lower quality) or using a one-to-one crop of the sensor (higher quality). For the best 4K image quality, choose the 4K crop mode. Note that this will give you a 1.8 times crop of the image, so it will be challenging to get wide-angle shots in this mode.
Both the the R50 and R10 can shoot up to 100/120 frames per second in HD for super slow-motion. To enable this mode, press the menu button and set 'high frame rate' to 'on'.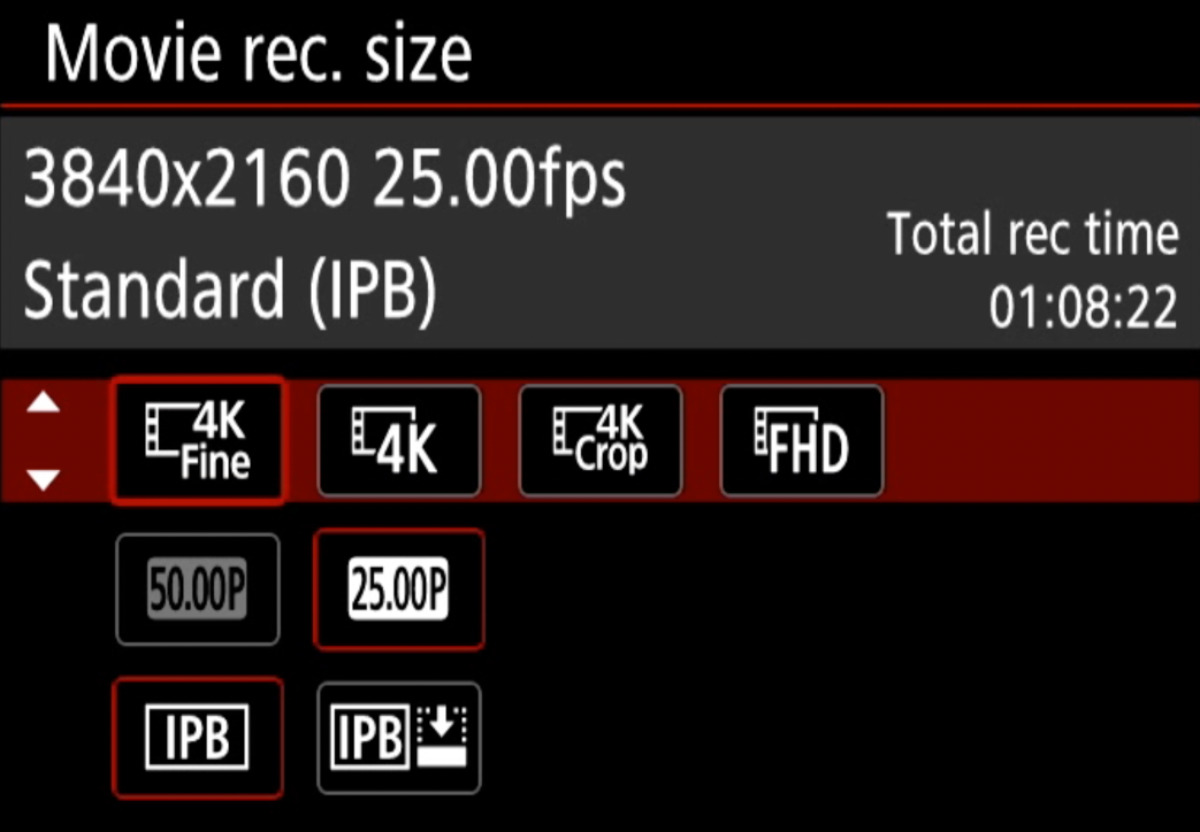 The resolution and frame rate screen
IPB vs IPB light
The R10 and R50 both give you the option of shooting in either IPB (120 Mbps) or IPB Light (60 Mbps). From my testing, both are visually indistinguishable. IPB Light saves 50% on card space and is easier to edit, so for most cases I would recommend choosing IPB Light.
Start video recording using the shutter button
For a hybrid camera, it's a little strange that you can hit the big shutter button to take a picture, but you need to hit that tiny red record button when in video mode. Luckily this can be easily fixed by going to:
menu > camera > shutter btn function for movies > fully press > start/stop movie rec
Setting your exposure
Since we've configured our camera for full manual control, this means we will also control our exposure (the amount of light hitting the sensor) manually. If you're new to terms like aperture, shutter speed and ISO, you should check out my full tutorial on exposure which explains everything you need to know.
Quickly switch between recording modes (R10 only)
On the Canon R10 (and R7) you can quickly switch between your most-used settings by assigning those settings to the custom modes on the dial. I find it especially handy to be able to quicly switch between normal recording and slow-motion (and automatically adjust the shutter speed when switching). To do so, go to the menu > wrench > Custom Shooting Mode > Register Settings. This will assign your current settings to C1/C2 on the mode dial.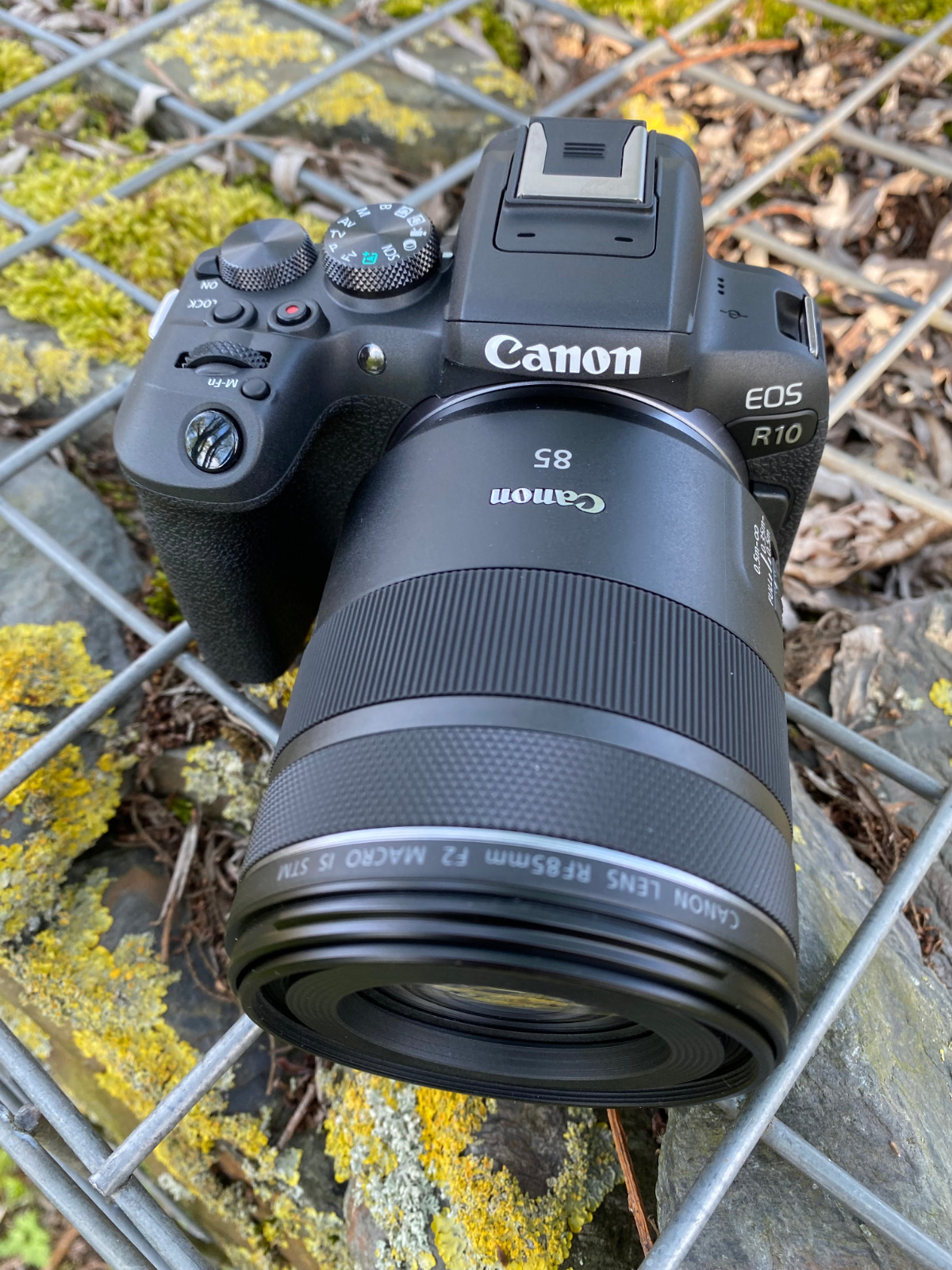 The Canon R10 with the RF 85mm f/2 Macro IS STM
Quickly pausing servo autofocus
Although the R10 and R50 come with Canon's reliable Dual Pixel Autofocus II, there are situations where any autofocus system will struggle:
when the subject you're tracking suddenly leaves the frame
when face-tracking is enabled and new faces enter the frame
in back-lit situations
in low-light conditions
with lenses that only allow for a center autofocus area (like the RF 600mm and 800mm f/11)
with macro lenses when set to full-range autofocus (like the RF 85mm f/2 IS STM Macro)
In all of these cases it's going to be handy to be able to quickly pause the autofocus, so the autofocus stays right where it is. The easiest way to set this up, is to assign a button to it. To do so, go to:
menu > customize (next to the wrench icon) > customize buttons
Then choose the button you want to assign, and set it to "pause movie servo AF".
Shooting flat on the R10 and R50
When you shoot with one of the built-in cutom picture styles ('standard', 'vivid', 'neutral', etc.) you get a great looking punchy image, that you can use right away. But the downside of shooting this way, is that you're actually throwing away a lot of highlight-and shadow-information, which also means you can't easily correct any exposure mistakes while editing or change the look and colors of your footage. To capture more dynamic range and have much more flexibility in post-processing, I recommend installing a flat picture profile like Filmkit Flat.
I designed Filmkit Flat specifically for Canon's mirrorless cameras and it allows you to retain more dynamic range and color information from your footage. A big benefit of Filmkit Flat compared to other picture styles is that it does not raise the noise floor, so there's significantly less noise in the shadows. Filmkit Flat comes with several LUTs to convert the flat footage back to Rec709.